Hub Leong represents many renowned OEM products that primarily emphasize on performance to serve our customers with absolute quality, cost competency and technical viability. Our product range is extensive and deep in coverage. There are over 1 million parts in our warehouse.
The business is mainly divided into 2 major categories, Tractors and Industrial Machineries.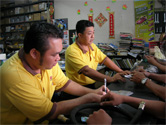 Some of the common parts are bearings, bolts and nuts, filters, seals, pumps, gaskets, belts(ie. V-belts, conveyor belts, etc.), lubricants, gears, motors, o-rings, bushes, pins, ground engaging tools, electrical parts, grease guns, rubber pads, hoses, coolant and etc.
Below are the brands that the company is an authorised agent and/or distributor.